---
---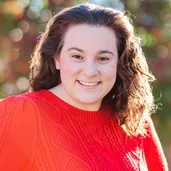 Reina Connolly

Hello, my name is Reina Connolly. I am a Clinical Professional Counselor - Student. I am excited to start this therapeutic journey with you. Currently, I am a graduate student at Northwestern University studying clinical mental health counseling with a child and adolescent emphasis. My post-graduation work has been multi-faceted in the fields of Psychology and Counseling. I was an intern for a missing person's organization providing supportive functions for families. In 2014, I worked for an organization with children who experienced a multitude of mental health challenges. Job responsibilities included providing emotional and recreational support for children. Highlighted work accomplishments were teaching novice swimmers and leading an art therapy group. Another work experience included being a volunteer manager at a grief center for children.
My volunteer background involves working with child and adolescent populations. I have been an active volunteer at a child and adolescent emergency shelter. I am also a baby cuddler for pediatric patients.
Professional interests include pediatric mental health, suicide prevention modalities, art therapy, and play therapy. A current project I am involved in is a senior capstone project for Northwestern University in which I hope to successfully create a suicide prevention model based on suicide notes. I hope to save lives by creating this modality and decreasing national, and possibly international, suicide rates. Another project I am working on is creating a nonprofit where I can address the graduate school mental health crisis.
My goal in providing therapy is to create a therapeutic relationship built on trust and empathy. I use a multitude of therapeutic modalities to provide the best care for clients. My life's mantra is from the famous poet, Robert Frost who states, "Two roads diverged in a wood, and I took the road less traveled by, and that made all the difference." I hope to make a positive impact in your life by taking a supportive road to resilience.
To schedule your first session with me, call or text our Counseling Center at (702) 716-0908 or click here.
Education
Northwstern University, MS in Clinical Mental Health Counseling with a Child, and Adolescent Emphasis (Current)

BA in Sociology and Psychology, University of Nevada, Las Vegas



Training
Child Counseling
Children with acute mental health challenges
Trauma
Psychodynamic Counseling
Acceptance and Commitment Therapy
Existential Therapy
Grief Counseling
Multicultural Counseling
Person-Centered Therapy
Medical Trauma
Positive Psychology


License
Under the supervision of Kana Nootenboom, Clinical Director, NV #01435
---
---
$60 per session.

Sliding scale available upon request.
Insurance
I am a student therapist and cannot accept insurance.
Payment
Cash, check and all major credit cards accepted for payment.
Cancellation Policy
For the initial session, a $50 fee will be charged if cancellation is not given to your therapist within 24-hours of the session start time. After the initial session, your therapist allows one (1) free missed session per year without the 24-hour notice. Please give a 24-hour cancellation notice to avoid being charged a full session fee for subsequent missed appointments.
---
---