---
---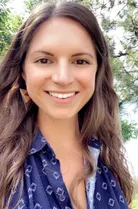 Erin Zubia

Hello, my name is Erin. I am a graduate student at Colorado Christian University studying Clinical Mental Health Counseling and a Clinical Professional Counselor - Student. I am looking forward to working with clients from all ages and backgrounds, and I have a passion for the elderly and victims of abuse. I would also love to help clients going through life transitions, grief, and depression. I have been a Licensed Massage Therapist for almost a decade, and now find myself switching gears to focus on the mental health of my clients, instead of just the physical side of personal wellness. My promise to you is to give you a non-judgmental space for you to feel safe, valued, and heard. While I am a Christian, you do not have to be a Christian to see me. I am open to all views and beliefs, and I look forward to meeting with clients from all walks of life I am happy to meet with you in person or via Teletherapy. I am here for you, and I will do the best I can to aid in your mental health journey in an empathetic and caring way. One of my favourite quotes is "People, even more than things, have to be restored, renewed, revived, reclaimed, and redeemed; never throw out anyone." ~Audrey Hepburn. I believe that everyone has some kind of trauma that they have experienced at some point in their lives, and we all have the potential for personal growth and positive change. I would love to help you take those needed steps to better your life! I have a client-centered approach where we can explore your past , help you recognize unhealthy ways of thinking, and aid you in developing a stronger sense of self confidence.
To schedule your first session with me, call or text our Counseling Center at (702) 716-0908.
Education
Colorado Christian University // M.A. In Clinical Mental Health Counseling (Current)

Eastern Illinois University // B.S. In Organizational and Professional Development
Parkland College // Massage Therapy Certificate
Training
Group Counseling

Addictions
Session Focused Behavioral Therapy
CBT
Psychodynamic approach
Existentialism
Rational Emotive Behavioral Therapy
Grief/ Loss Counseling
Trauma
Anxiety
Depression
Domestic Violence
Multicultural Counseling
Person-Centered therapy
Positive psychology
Family counseling
License
Under the supervision of Kana Nootenboom, Clinical Director, NV #01435
---
---
$60 per session
Sliding scale available upon request

Insurance
I am a student therapist and cannot accept insurance.
Payment
Cash, check and all major credit cards accepted for payment.
Cancellation Policy
For the initial session, a $25 fee will be charged if cancellation is not given to your therapist within 24-hours of the session start time. After the initial session, your therapist allows one (1) free missed session per year without the 24-hour notice. Please give a 24-hour cancellation notice to avoid being charged a full session fee for subsequent missed appointments.
---
---